Equipment Library
The Seattle Astronomical Society maintains a library of small and medium size telescopes that may be checked out for a period of 1 month by members in good standing. If you are new to astronomy, this is an excellent way to learn how to use a telescope and to begin viewing the wonders of the night sky, without having to invest immediately in a telescope of your own. To check out a telescope, please check out our equipment available for loan.
If you have any questions about borrowing equipment, or do not see a specific piece of equipment please reach out to our Equipment Manager.
Keywords
Equipment currently shown is filtered to only those tagged with Intermediate
Available Immediately
The following list of equipment is immediately available to borrow.
Newly added 21 days ago on April 30, 2018 (Monday).
Currently there are 0 requests to borrow this.
The Ultrastar camera is an advanced version of Starlight Xpress 'Superstar' guide camera and it has a similar resolution of 1392 x 1040 pixels. However, the CCD chip has 70% more area and the QE is considerably greater, at around 75% peak. These characteristics give the Ultrastar an excellent performance as both a guide camera and an imaging camera, which is especially well suited to 'Live Viewing' mode. Some years ago, Paul Shears released a simple to use program called 'Lodestar Live', which uses the SX Lodestar in 'Live Viewing' mode. This has now been upgraded to 'Starlight Live' and is capable of controlling both the Lodestar and the Ultrastar in Live view. It can also color convert and stack images from single-shots.
Newly added 1 days ago on May 20, 2018 (Sunday).
Currently there are 0 requests to borrow this.
ASI120S is a super speed and sensitive USB3.0 camera. Up to 60FPS under 1280X960 full resolution! With a peak QE of 75%, beyond ICX618 and with no FPN(Fixed pattern Noise)! Long time exposure supported up to 1000s! Full compatible with USB 2.0 USB Host!
Available Soon
Available Eventually
The following list of equipment is currently loaned out to a member, and may include other members waiting to also borrow.
Currently there are 1 requests to borrow this.
Resolux binoculars are our new favorite astro binoculars (and equally superb for long-distance daytime viewing), combining high-resolution, flat-field optics with rugged mechanical construction and the strict JTII spec for collimation. They are fully waterproof, and nitrogen purged to prevent internal lens fogging. The BAK-4 prisms and advanced multi-coatings on all optical surfaces really drink in the light. The eyepieces focus individually, and with 18mm or more of eye relief on each model, even eyeglass wearers will see the full field of view. The Resolux's all-metal housing is armored with thick rubber to ensure a secure, comfortable grip. Each binocular comes with tethered lens caps, heavy-duty tripod adapter, and neck strap.
These rugged 10.5-power Orion Resolux astronomical binoculars provide high-resolution views with a nice flat-field. Fully waterproof and nitrogen purged construction prevents lens fogging in damp conditions. High-quality BAK-4 prisms and advanced multi-coatings on all optical surfaces provide maximum light throughput for bright views rich in contrast. Orion's 10.5x70 Resolux binoculars are still hand holdable for short viewing sessions, and have a nice 5.0-degree field of view.
Currently Unavailable
All our equipment is in good condition!
Telescope Types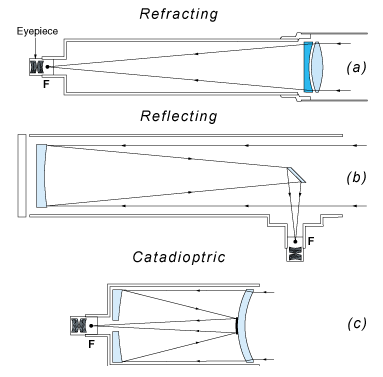 Copyright NIAAS, North Ireland Amatuer Astronomical Society
What are those numbers?

Copyright 2008-2012 Stormthecastle.com
The f-ratio is the focal length divided by the diameter of the telescope. Magnification is the focal length of the telescope divided by the focal length of the eyepiece.
Example
To find the f-ratio of a telescope 10 " in diameter with a 45" focal length:
Divide 45 " F.L. by10" D. to get an f-ratio of 4.5.
Compute Magnification
First, convert focal length to mm: 45" = 1146 mm, then:
1146 mm focal length divided by 35 mm eyepiece equals 33 magnification.
More Information
If you are interested in learning more about telescopes, we recommend: