Equipment Library
The Seattle Astronomical Society maintains a library of small and medium size telescopes that may be checked out for a period of 1 month by members in good standing. If you are new to astronomy, this is an excellent way to learn how to use a telescope and to begin viewing the wonders of the night sky, without having to invest immediately in a telescope of your own. To check out a telescope, please check out our equipment available for loan.
If you have any questions about borrowing equipment, or do not see a specific piece of equipment please reach out to our Equipment Manager.
Available Immediately
The following list of equipment is immediately available to borrow.
Available Soon
The following list of equipment is currently loaned out, loan ends in the next two weeks, and no one else has requested to borrow it. This is a great time to request to borrow it!
Loan ends in 3 days on July 18, 2019 (Thursday).
The Star Hopper Dobsonian telescopes are designed for beginners who seek the best possible view of the faint Deep Sky objects while on a constrained budget. These include advanced features that an experienced observer will appreciate.
Loan ends in 8 days on July 23, 2019 (Tuesday).
The Orion SkyQuest XT10i IntelliScope Dobsonian Reflector features a fairly large 10" apperture mirror combined with the ease of use of a Dodsonian mount. The telescope includes altitude and azimuthal encoders and a computer controller for easy two start configuration and push-to navigation. With the Orion SkyQuest XT10i IntelliScope Computer Controller, the user can select an object to view from the controller's 14,000+ object database. A big, 9x50 finder scope is included to help aim the telescope. Three included telescope eyepieces, a 25mm, 17mm, and 9mm Sirius Plossl, provide you with views between 48x and 120x respectively. This telescope also includes a full aperture solar filter for safe solar viewing.
Loan ends in 11 days on July 26, 2019 (Friday).
The StarMax 127 telescope is a Maksutov-Cassegrain design that folds a long focal length into a relatively short and easy to handle optical tube. The long focal length (1540mm) makes it easy to reach high magnification for observation of the moon and planets. The 127 mm aperature is large enough for nice views of brighter deep sky objects. Includes an adjustable tripod and equatorial mount with manual slow-motion controls.
Available Eventually
The following list of equipment is currently loaned out to a member, and may include other members waiting to also borrow.
Currently Unavailable
The following list of equipment is not available to members until we are able to replace or repair parts.
Note This item is being serviced and it is not available for check out.
With the light-gathering power of an 114 mm aperture, the 114 SLT comes with a fully computerized hand control with a database of over 4,000 celestial objects. With its pre-assembled, adjustable steel tripod, the NexStar 114 SLT can be up and ready to use in a matter of minutes. The SkyAlign alignment technology and the included StarPointer Finderscope with a red LED, makes aligning a breeze. Compact and lightweight in design, this scope can produce images bright enough to reveal Messier objects and also works well for planetary viewing.
Note This item is being serviced and it is not available for check out.
An easy-to-use computerized telescope with SkyAlign Technology. Point the telescope at three bright objects in the sky, and SkyAlign will then align your NexStar 102GT.
High quality 102mm (4") refractor telescope with multi-coated glass optics. 212x more light gathering power than the human eye.
Computerized hand control with 40,000+ objects in its database and motorized altazimuth mount
Special set of 5 eyepieces allowing you to view objects up to 250 times closer than the naked eye
StarPointer finderscope to help with alignment and accurately locating objects
Quick-release fork arm mount, optical tube and accessory tray for quick no-tool set up
Sturdy stainless steel tripod and accessory tray included
Includes erect image diagonal for great terrestrial observing
Includes TheSkyX First Light Edition Astronomy Software, which provides education about the sky and printable sky maps
Telescope Types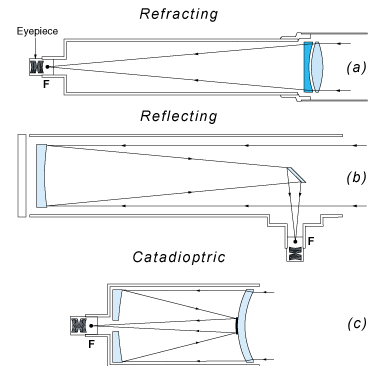 Copyright NIAAS, North Ireland Amatuer Astronomical Society
What are those numbers?

Copyright 2008-2012 Stormthecastle.com
The f-ratio is the focal length divided by the diameter of the telescope. Magnification is the focal length of the telescope divided by the focal length of the eyepiece.
Example
To find the f-ratio of a telescope 10 " in diameter with a 45" focal length:
Divide 45 " F.L. by10" D. to get an f-ratio of 4.5.
Compute Magnification
First, convert focal length to mm: 45" = 1146 mm, then:
1146 mm focal length divided by 35 mm eyepiece equals 33 magnification.
More Information
If you are interested in learning more about telescopes, we recommend: