Equipment Library
The Seattle Astronomical Society maintains a library of small and medium size telescopes that may be checked out for a period of 1 month by members in good standing. If you are new to astronomy, this is an excellent way to learn how to use a telescope and to begin viewing the wonders of the night sky, without having to invest immediately in a telescope of your own. To check out a telescope, please check out our equipment available for loan.
If you have any questions about borrowing equipment, or do not see a specific piece of equipment please reach out to our Equipment Manager.
Available Immediately
All our equipment is currently on loan to other members.
Available Soon
Available Eventually
None of our equipment is loaned out to any members.
Currently Unavailable
The following list of equipment is not available to members until we are able to replace or repair parts.
Note This item is being serviced and it is not available for check out.
NOTE: This telescope is heavy and may require two adults to carry and set up.
The SkyQuest XT10g features GoTo pointing. It features a 254mm (10") aperture, 1200mm focal-length parabolic mirror (f/4.7).
Assembly is straightforward, but please note: This is a very heavy and bulky telescope. The base is large and weighs nearly 40 lbs. The optical tube weighs 30 lbs and is about 12 inches in diameter by 48 inches long. It may require 2 people to lift it and a bigger vehicle to transport it. Handles on the Dobsonian base's front and side panels help to lift and carry the heavy base. Assembly is done by lifting the 30 lb. XT10g telescope optical tube into the Dobsonian base and locking it in place with a hand knob. A two-star alignment must be done to orient the telescope to the sky for GoTo operation.
Our Orion SkyQuest XT10g GoTo Dobsonian Loaner Package includes an EZ Finder II reflex sight, three high quality eyepieces, and several useful accessories.
Telescope Types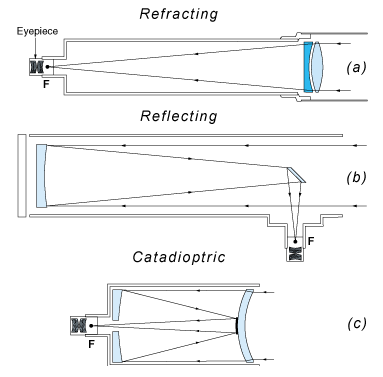 Copyright NIAAS, North Ireland Amatuer Astronomical Society
What are those numbers?

Copyright 2008-2012 Stormthecastle.com
The f-ratio is the focal length divided by the diameter of the telescope. Magnification is the focal length of the telescope divided by the focal length of the eyepiece.
Example
To find the f-ratio of a telescope 10 " in diameter with a 45" focal length:
Divide 45 " F.L. by10" D. to get an f-ratio of 4.5.
Compute Magnification
First, convert focal length to mm: 45" = 1146 mm, then:
1146 mm focal length divided by 35 mm eyepiece equals 33 magnification.
More Information
If you are interested in learning more about telescopes, we recommend: