Equipment Library
The Seattle Astronomical Society maintains a library of small and medium size telescopes that may be checked out for a period of 1 month by members in good standing. If you are new to astronomy, this is an excellent way to learn how to use a telescope and to begin viewing the wonders of the night sky, without having to invest immediately in a telescope of your own. To check out a telescope, please check out our equipment available for loan.
If you have any questions about borrowing equipment, or do not see a specific piece of equipment please reach out to our Equipment Manager.
See the complete equipment list in alphabetical order.
Search
All our equipment is currently on loan to other members.
None of our equipment is loaned out to any members.
Currently Unavailable
The following list of equipment is not available to members until we are able to replace or repair parts.
Note This item is being serviced and it is not available for check out.
This telescope needs repairs and is not currently available for loans. It may be some time before you can borrow this equipment.
Please do not submit more than two requests at any one time without Equipment Manager approval.
This Meade 2080 Schmidt-Cassegrain was recently acquired by SAS and is under evaluation. It is an older, manually operated eight inch aperture telescope on an equatorial fork mount. It will give good views of the moon, planets as well as nebulae, star clusters and galaxies. It has a 110V clock drive, with a manual solw motion control that can be used to track objects if 110 V power is not readily available.
==================================================================================
Telescope Types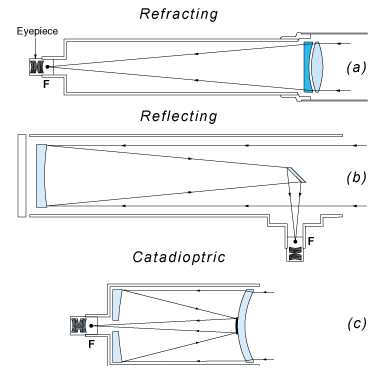 Copyright NIAAS, North Ireland Amatuer Astronomical Society
What are those numbers?

Copyright 2008-2012 Stormthecastle.com
The f-ratio is the focal length divided by the diameter of the telescope. Magnification is the focal length of the telescope divided by the focal length of the eyepiece.
Example
To find the f-ratio of a telescope 10 " in diameter with a 45" focal length:
Divide 45 " F.L. by10" D. to get an f-ratio of 4.5.
Compute Magnification
First, convert focal length to mm: 45" = 1146 mm, then:
1146 mm focal length divided by 35 mm eyepiece equals 33 magnification.
More Information
If you are interested in learning more about telescopes, we recommend: