Equipment Library
The Seattle Astronomical Society maintains a library of small and medium size telescopes that may be checked out for a period of 1 month by members in good standing. If you are new to astronomy, this is an excellent way to learn how to use a telescope and to begin viewing the wonders of the night sky, without having to invest immediately in a telescope of your own. To check out a telescope, please check out our equipment available for loan.
If you have any questions about borrowing equipment, or do not see a specific piece of equipment please reach out to our Equipment Manager.
Keywords
Equipment currently shown is filtered to only those tagged with Reflector
Available Immediately
The following list of equipment is immediately available to borrow.
Newly added 83 days ago on November 25, 2018 (Sunday).
Currently there are 0 requests to borrow this.
The SkyQuest XT10g features GoTo pointing convenience. It features a 254mm (10") aperture, 1200mm focal-length parabolic mirror (f/4.7) made from low-thermal-expansion optical glass. Enhanced reflectivity (94%) aluminum mirror coatings yield bright, high-definition images. The 10" primary mirror is center-marked to make precise alignment of the optics (collimation) easier to achieve. The reflector telescope's open mirror cell design facilitates efficient cooling of the mirror to ambient temperature.
The XT10g telescope optical tube drops into the Dobsonian base on a dovetail trunnion and locks in place with a single hand knob. A simple two-star alignment is all it takes to orient the telescope to the sky for GoTo operation. Then let the fun begin! When you're ready to call it a night, just loosen the knob and lift the tube off the base for easy transport or storage. Handles on the Dobsonian base's front and side panels make it easy to lift and carry, whether you're going from car to field, or from house to backyard.
The Orion SkyQuest XT10g GoTo Dobsonian also includes an EZ Finder II reflex sight, eyepiece rack for one 2" and three 1.25" eyepieces, hand controller bracket, and a quick collimation cap.
Available Soon
Available Eventually
None of our equipment is loaned out to any members.
Currently Unavailable
All our equipment is in good condition!
Telescope Types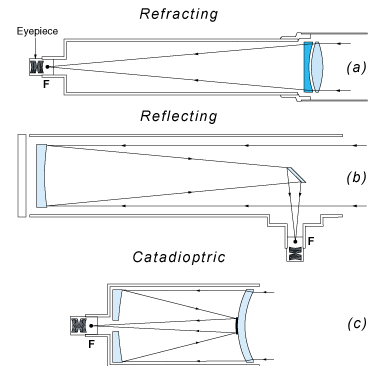 Copyright NIAAS, North Ireland Amatuer Astronomical Society
What are those numbers?

Copyright 2008-2012 Stormthecastle.com
The f-ratio is the focal length divided by the diameter of the telescope. Magnification is the focal length of the telescope divided by the focal length of the eyepiece.
Example
To find the f-ratio of a telescope 10 " in diameter with a 45" focal length:
Divide 45 " F.L. by10" D. to get an f-ratio of 4.5.
Compute Magnification
First, convert focal length to mm: 45" = 1146 mm, then:
1146 mm focal length divided by 35 mm eyepiece equals 33 magnification.
More Information
If you are interested in learning more about telescopes, we recommend: