Equipment Library
The Seattle Astronomical Society maintains a library of small and medium size telescopes that may be checked out for a period of 1 month by members in good standing. If you are new to astronomy, this is an excellent way to learn how to use a telescope and to begin viewing the wonders of the night sky, without having to invest immediately in a telescope of your own. To check out a telescope, please check out our equipment available for loan.
If you have any questions about borrowing equipment, or do not see a specific piece of equipment please reach out to our Equipment Manager.
Available Immediately
All our equipment is currently on loan to other members.
Available Soon
Available Eventually
The following list of equipment is currently loaned out to a member, and may include other members waiting to also borrow.
Currently there are 2 requests to borrow this.
The Orion StarBlast 4.5 EQ reflector telescope is suitable for beginner and intermediate astronomers. It comes with an equatorial tracking mount and adjustable-height tripod. Two eyepieces from the Orion Expanse series, which have a large 66 degree apparent field of view, are included. A 15mm Expanse eyepiece provides 30x power magnification, and a 6mm Expanse eyepiece provides 75x magnification. An Orion EZ Finder II reflex sight is provided to aim the StarBlast 4.5 Equatorial Reflector Telescope anywhere in the night sky. The EZ Finder II projects a small red-dot onto a viewing window and the user must move the telescope until the red-dot is aimed at the intended area of the sky
Currently there are 3 requests to borrow this.
Note: This equipment includes an equatorial mount that must be set up properly. For visual use, just point the polar axis of the mount approximately toward the north star.
The StarMax 127 telescope is a Maksutov-Cassegrain design that folds a long focal length into a relatively short and easy to handle optical tube. The long focal length (1540mm) makes it easy to reach high magnification for observation of the moon and planets. The 127 mm aperature is large enough for nice views of brighter deep sky objects. Includes an adjustable tripod and equatorial mount with manual slow-motion controls. The equatorial makes it easier to track the moon and planets at high magnification, but can be confusing for beginners. The Equipment Manager can provide advice on setting up and using an equatorial mount.
Currently Unavailable
All our equipment is in good condition!
Telescope Types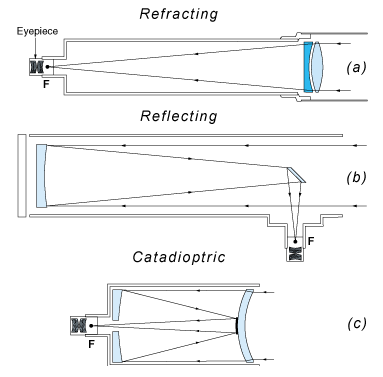 Copyright NIAAS, North Ireland Amatuer Astronomical Society
What are those numbers?

Copyright 2008-2012 Stormthecastle.com
The f-ratio is the focal length divided by the diameter of the telescope. Magnification is the focal length of the telescope divided by the focal length of the eyepiece.
Example
To find the f-ratio of a telescope 10 " in diameter with a 45" focal length:
Divide 45 " F.L. by10" D. to get an f-ratio of 4.5.
Compute Magnification
First, convert focal length to mm: 45" = 1146 mm, then:
1146 mm focal length divided by 35 mm eyepiece equals 33 magnification.
More Information
If you are interested in learning more about telescopes, we recommend: