Equipment Library
The Seattle Astronomical Society maintains a library of small and medium size telescopes that may be checked out for a period of 1 month by members in good standing. If you are new to astronomy, this is an excellent way to learn how to use a telescope and to begin viewing the wonders of the night sky, without having to invest immediately in a telescope of your own. To check out a telescope, please check out our equipment available for loan.
If you have any questions about borrowing equipment, or do not see a specific piece of equipment please reach out to our Equipment Manager.
Available Immediately
All our equipment is currently on loan to other members.
Available Soon
Available Eventually
The following list of equipment is currently loaned out to a member, and may include other members waiting to also borrow.
Loan ends in 31 days on April 30, 2020 (Thursday).
Celestron's large-aperture Echelon series binoculars were designed for use in low light conditions. Whether you are long-range glassing across a field or valley, or gazing at the splendors of the Milky Way, a pair of Celestron Echelon binoculars will get the job done. With an exit pupil of 4.4 mm, these binoculars deliver an amazing amount of light allowing you to see the most detail possible.
With the next to highest magnification in the Echelon series, the 16x70 model offers great magnification for astronomy, and provides enough power to bring small subjects into view, even at long distances.
Celestron Echelon binoculars sport high quality 70 mm objective lenses made in Japan. Superior BaK-4 prisms were chosen for maximum contrast and sharpness, and all air-to-glass surfaces are multi-coated with Celestron's proprietary XLT optical coatings—the same high transmission coatings used on our observatory-grade telescopes to increase contrast and resolution.
Currently there are 1 requests to borrow this.
Resolux binoculars are our new favorite astro binoculars (and equally superb for long-distance daytime viewing), combining high-resolution, flat-field optics with rugged mechanical construction and the strict JTII spec for collimation. They are fully waterproof, and nitrogen purged to prevent internal lens fogging. The BAK-4 prisms and advanced multi-coatings on all optical surfaces really drink in the light. The eyepieces focus individually, and with 18mm or more of eye relief on each model, even eyeglass wearers will see the full field of view. The Resolux's all-metal housing is armored with thick rubber to ensure a secure, comfortable grip. Each binocular comes with tethered lens caps, heavy-duty tripod adapter, and neck strap.
These rugged 10.5-power Orion Resolux astronomical binoculars provide high-resolution views with a nice flat-field. Fully waterproof and nitrogen purged construction prevents lens fogging in damp conditions. High-quality BAK-4 prisms and advanced multi-coatings on all optical surfaces provide maximum light throughput for bright views rich in contrast. Orion's 10.5x70 Resolux binoculars are still hand holdable for short viewing sessions, and have a nice 5.0-degree field of view.
Currently Unavailable
All our equipment is in good condition!
Telescope Types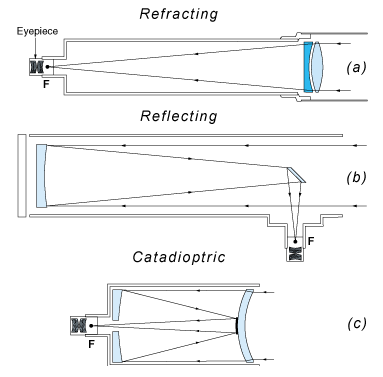 Copyright NIAAS, North Ireland Amatuer Astronomical Society
What are those numbers?

Copyright 2008-2012 Stormthecastle.com
The f-ratio is the focal length divided by the diameter of the telescope. Magnification is the focal length of the telescope divided by the focal length of the eyepiece.
Example
To find the f-ratio of a telescope 10 " in diameter with a 45" focal length:
Divide 45 " F.L. by10" D. to get an f-ratio of 4.5.
Compute Magnification
First, convert focal length to mm: 45" = 1146 mm, then:
1146 mm focal length divided by 35 mm eyepiece equals 33 magnification.
More Information
If you are interested in learning more about telescopes, we recommend: