Equipment Library
The Seattle Astronomical Society maintains a library of small and medium size telescopes that may be checked out for a period of 1 month by members in good standing. If you are new to astronomy, this is an excellent way to learn how to use a telescope and to begin viewing the wonders of the night sky, without having to invest immediately in a telescope of your own. To check out a telescope, please check out our equipment available for loan.
If you have any questions about borrowing equipment, or do not see a specific piece of equipment please reach out to our Equipment Manager.
See the complete equipment list in alphabetical order.
Search
All our equipment is currently on loan to other members.
Available Eventually
The following list of equipment is currently loaned out to a member, and may include other members waiting to also borrow.
Currently there are 4 requests to borrow this.
The Explore Scientific AR102 telescope is out for maintenance.. Until it is returned, an Orion 80mm ED refractor has been substituted. An ED refractor uses modern "Extra-Low Dispersion" glass to provide a sharper image than is possible with a short tube acromat using traditional flint and crown glass elements. The Orion 80ED is a general purpose telescope that will give sharp images of the moon and planets as well as the brighter star clusters and galaxies. The 80mm aperture lens gathers less light than a 100mm aperature telescope but ED glass improves the image contrast. This 80ED telescope includes a good quality single speed focuser, a one-piece 2" diagonal with 99% dielectric coatings, a 6x30 correct image right angle finderscope with quick release bracket, and a cradle ring assembly with a Vixen-style dovetail mount. The smaller 80mm ED telescope is a good match for the Twilight I Alt-Azimuth mount, which is designed to quickly and easily accept small to medium sized refractors. Slow-motion control cables are attached on the vertical and horizontal axes, and are easy to turn during the night.
=============================================
The Explore Scientific AR102 telescope is a classic doublet achromatic f/6.5 refractor designed to provide low magnification, wide field views of the sky. This telescope includes a 2" dual-speed Crayford-style focuser, a one-piece 2" diagonal with 99% dielectric coatings, an 8 X 50 non-illuminated straight -thru finderscope and quick release bracket, and a cradle ring assembly with Vixen-style dovetail mount.
Currently Unavailable
The following list of equipment is not available to members until we are able to replace or repair parts.
Note This item is being serviced and it is not available for check out.
Temporarily unavailable for new requests due to long waitlist.
Note: This package requires the user to provide a laptop computer, install the necessary drivers, and polar align an equatorial mount.
This astrophotography kit is designed for imaging deep sky objects by capable amateur astronomers. It includes a Meade Series 6000 APO ED APO (apochromatic) 80mm refractor, a Celestron Advanced VX telescope mount, a ZWO ASI294MC Pro cooled camera with a reducer/flattener, and all the necessary cables and power supply. The borrower should understand how to align and use an equatorial mount and must supply a laptop computer to operate the camera. The short effective focal length of the system allows unguided exposures of a few minutes, which can then be stacked during post processing
The Meade Series 6000 80mm APO triplet refractor uses extra-low dispersion optical glass to provide excellent color correction, contrast, and sharpness.
Telescope Types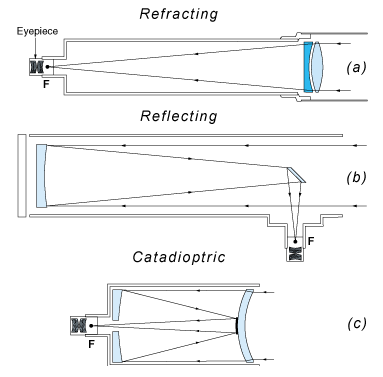 Copyright NIAAS, North Ireland Amatuer Astronomical Society
What are those numbers?

Copyright 2008-2012 Stormthecastle.com
The f-ratio is the focal length divided by the diameter of the telescope. Magnification is the focal length of the telescope divided by the focal length of the eyepiece.
Example
To find the f-ratio of a telescope 10 " in diameter with a 45" focal length:
Divide 45 " F.L. by10" D. to get an f-ratio of 4.5.
Compute Magnification
First, convert focal length to mm: 45" = 1146 mm, then:
1146 mm focal length divided by 35 mm eyepiece equals 33 magnification.
More Information
If you are interested in learning more about telescopes, we recommend: