Equipment Library
The Seattle Astronomical Society maintains a library of small and medium size telescopes that may be checked out for a period of 1 month by members in good standing. If you are new to astronomy, this is an excellent way to learn how to use a telescope and to begin viewing the wonders of the night sky, without having to invest immediately in a telescope of your own. To check out a telescope, please check out our equipment available for loan.
If you have any questions about borrowing equipment, or do not see a specific piece of equipment please reach out to our Equipment Manager.
See the complete equipment list in alphabetical order.
Search
Available Immediately
The following list of equipment is immediately available to borrow.
Currently there are 3 requests to borrow this.
Large-aperture astronomical binoculars are designed for viewing .star clusters, nebula, and galaxies. 16x magnification is sufficient to provide good views of many deep sky objects, It will provide pleasing views of the moon , and will show Jupiter and it's four Galilean moons.
Celestron Echelon binoculars sport high quality 70 mm objective lenses made in Japan. BaK-4 prisms provide good contrast and sharpness, and all air-to-glass surfaces are multi-coated with Celestron's proprietary XLT anti-reflection optical coatings.
Currently there are 3 requests to borrow this.
The Meade 8 LX200 Schmidt-Cassegrain is an older, manually operated telescope on an equatorial fork mount. It will give good views of the moon, planets as well as nebulae, star clusters and galaxies. It has a 110V clock drive, with a manual solw motion control that can be used to track objects if 110 V power is not readily available.
Available Eventually
The following list of equipment is currently loaned out to a member, and may include other members waiting to also borrow.
Newly added 14 days ago on September 12, 2020 (Saturday).
Currently there are 1 requests to borrow this.
Older Canon XTi DSLR camera body with T-ring and Adapter for attaching this camera to a Schmidt Cassegrain Telescope. Suitable for Lunar and Planetary photography.
Currently there are 2 requests to borrow this.
Large-aperture astronomical binoculars are intended for viewing star clusters, nebula, and galaxies. 10x magnification will provide good wide field views of larger deep sky objects such as the Great Orion Nebula and the Pleiades star cluster. At a dark sky site it will provide good views of Milky Way star fields and larger objects such as the Andromeda and Triangulum galaxies (M31 and M33).
Like any binoculars, the Resolux 10.5x70 will provide pleasing views of the moon.
The Orion Resolux binoculars feature BAK-4 prisms and anti-reflection multi-coatings on all optical surfaces. The eyepieces focus individually and provide 18mm or more of eye relief They.have a 5.0-degree field of view.
A binocular tripod mount is provided in the SAS loaner package, but these 10.5x70 Resolux binoculars are hand holdable for short viewing sessions, especially if you can relax in a reclining lounge chair (not provided) while stargazing..
Currently there are 3 requests to borrow this.
The AWB (Astronomers Without Borders) OneSky telescope is a 130 mm Newtonian reflector. It has a Dobsonian style mounting that is compact and intuitive to use. A red-dot reflex sight serves as a finder for aiming the scope. The truss tube telescope collapses into a compact size for storage and transport. Note that this telescope is designed to be placed on a small table or similar support when in use and does not come with a tripod.
Three eyepices are included. A low power eyepiece (26 mm TeleVue Plossl) provides 25 power and a wide, 2 degree true field of view for locating objects and for viewing large deep sky objects such as star clusters, nebulae, and galaxies.. A 13mm Celestron Plossl provides 50 power, and a 10.5 mm TeleVue Plossl provides 62 power for viewing the Moon, planets, and smaller deep sky objects.
This telescope is suitable for all ages and is a good choice for viewing the moon, planets, and bright deep sky objects. The red-dot finder is easy to use. However, you need to be able to see your target in the sky order to aim the scope accurately. In the city, a red-dot finder works well when aiming at the moon, planets, and bright stars. Finding faint deep sky objects generally requires dark sky unless, like the Great Orion Nebula, the object you are looking for is located near a bright star.
It is always good to set up a telescope away from any direct line of sight to porch lights or street lights, and this is especially important for an open truss tube design like the AWB 130.
Specifications:
Aperture: 130 mm
Focal length: 650 mm (f/5)
Eyepieces: 25 mm (26x) and 10 mm (65x)
Tube length collapsed: 24 inches
Tube length collapsed: 14.5 inches
Telescope weight: 14 pounds
Currently Unavailable
The following list of equipment is not available to members until we are able to replace or repair parts.
Telescope Types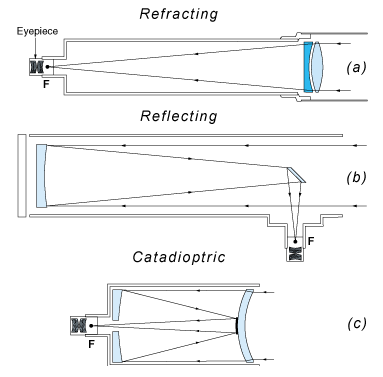 Copyright NIAAS, North Ireland Amatuer Astronomical Society
What are those numbers?

Copyright 2008-2012 Stormthecastle.com
The f-ratio is the focal length divided by the diameter of the telescope. Magnification is the focal length of the telescope divided by the focal length of the eyepiece.
Example
To find the f-ratio of a telescope 10 " in diameter with a 45" focal length:
Divide 45 " F.L. by10" D. to get an f-ratio of 4.5.
Compute Magnification
First, convert focal length to mm: 45" = 1146 mm, then:
1146 mm focal length divided by 35 mm eyepiece equals 33 magnification.
More Information
If you are interested in learning more about telescopes, we recommend: