Equipment Library
The Seattle Astronomical Society maintains a library of small and medium size telescopes that may be checked out for a period of 1 month by members in good standing. If you are new to astronomy, this is an excellent way to learn how to use a telescope and to begin viewing the wonders of the night sky, without having to invest immediately in a telescope of your own. To check out a telescope, please check out our equipment available for loan.
If you have any questions about borrowing equipment, or do not see a specific piece of equipment please reach out to our Equipment Manager.
Available Immediately
The following list of equipment is immediately available to borrow.
Available Soon
Available Eventually
The following list of equipment is currently loaned out to a member, and may include other members waiting to also borrow.
Currently Unavailable
The following list of equipment is not available to members until we are able to replace or repair parts.
Note This item is being serviced and it is not available for check out.
This is a complete portable astrophotography kit which is suitable for wide-field astro-imaging. The equipment includes a Sky-Watcher Star Adventurer equatorial mount, Berlebach mini tripod, astronomy-modified Canon T3i with a 50mm and a 100mm lens, assorted cables, batteries, and cases (one for the mount and camera and one for the tripod). It comes with a manual to familiarize the user with the assembly, use, and care of the Seattle Astronomical Society's portable astrophotography equipment.
Note This item is being serviced and it is not available for check out.
High quality 102mm (4") refractor telescope with multi-coated glass optics. 212x more light gathering power than the human eye.
Special set of 5 eyepieces allowing you to view objects up to 250 times closer than the naked eye
StarPointer finderscope to help with alignment and accurately locating objects
Quick-release fork arm mount, optical tube and accessory tray for quick no-tool set up
Sturdy stainless steel tripod and accessory tray included
Includes erect image diagonal for great terrestrial observing
Includes TheSkyX First Light Edition Astronomy Software, which provides education about the sky and printable sky maps
Note This item is being serviced and it is not available for check out.
This advanced astrophotography kit includes a Meade Series 6000 APO ED APO 80mm refractor, a Celestron Advanced VX telescope mount, a ZWO ASI294MC Pro cooled camera with a reducer/flattener, and all the necessary cables and power supply. It comes with all the pertinent manuals to use the various gear. This astrophotography kit is designed for imaging deep sky objects.
The Meade Series 6000 80mm APO triplet refractor is built with the observer and imager in mind. With the three element optical design using the highest grade extra-low dispersion optical glass, false color is virtually eliminated, yielding astonishing color correction, contrast, and sharpness.
Telescope Types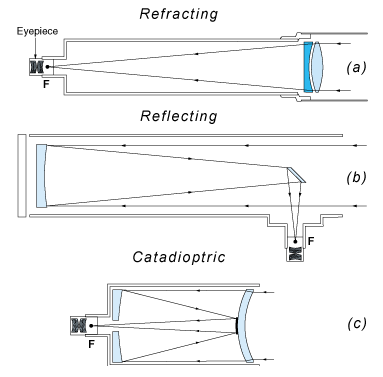 Copyright NIAAS, North Ireland Amatuer Astronomical Society
What are those numbers?

Copyright 2008-2012 Stormthecastle.com
The f-ratio is the focal length divided by the diameter of the telescope. Magnification is the focal length of the telescope divided by the focal length of the eyepiece.
Example
To find the f-ratio of a telescope 10 " in diameter with a 45" focal length:
Divide 45 " F.L. by10" D. to get an f-ratio of 4.5.
Compute Magnification
First, convert focal length to mm: 45" = 1146 mm, then:
1146 mm focal length divided by 35 mm eyepiece equals 33 magnification.
More Information
If you are interested in learning more about telescopes, we recommend: