Equipment Library
The Seattle Astronomical Society maintains a library of small and medium size telescopes that may be checked out for a period of 1 month by members in good standing. If you are new to astronomy, this is an excellent way to learn how to use a telescope and to begin viewing the wonders of the night sky, without having to invest immediately in a telescope of your own. To check out a telescope, please check out our equipment available for loan.
If you have any questions about borrowing equipment, or do not see a specific piece of equipment please reach out to our Equipment Manager.
Available Immediately
All our equipment is currently on loan to other members.
Available Soon
Available Eventually
The following list of equipment is currently loaned out to a member, and may include other members waiting to also borrow.
Loan ends in 18 days on February 08, 2020 (Saturday).
The Orion StarBlast 4.5 EQ reflector telescope is suitable for beginner and intermediate astronomers. It comes with a sturdy EQ-1 equatorial tracking mount and adjustable-height tripod. Included are two eyepieces from the Orion Expanse series - a 15mm and 6mm - which have a large 66 degree apparent field of view. The included 15mm Expanse telescope eyepiece provides 30x power magnification, while the 6mm Expanse eyepiece bumps up the power all the way to 75x magnification. An included Orion EZ Finder II reflex sight makes it easy to effectively aim the StarBlast 4.5 Equatorial Reflector Telescope anywhere in the night sky. The EZ Finder II projects a small red-dot onto a viewing window so all you have to do is move the telescope until the red-dot is aimed at the area of sky you wish to view through the telescope.
Currently there are 1 requests to borrow this.
ASI120S is a super speed and sensitive USB3.0 camera. Up to 60FPS under 1280X960 full resolution! With a peak QE of 75%, beyond ICX618 and with no FPN(Fixed pattern Noise)! Long time exposure supported up to 1000s! Full compatible with USB 2.0 USB Host!
Currently there are 6 requests to borrow this.
Celestron NexStar Evolution 6 includes integrated WiFi and can be controlled with your smartphone or tablet by connecting your device to NexStar Evolution's built-in wireless network. A SkyAlign alignment procedure is built into the Celestron mobile app for setup of the "GoTo" mode that provides automatic slewing to a selected object. Use the planetarium interface to display a list of celestial objects currently visible based on your time and location. NexStar Evolution includes its own built-in battery and will operate for up to 10 hours on a single charge. Ergonomic handles help with setup. Manual clutches in both altitude and azimuth offer flexibility to manually point the telescope when powered off. The 6-inch NexStar Evolution tracking accuracy is accurate enough to get started in astroimaging by attaching your DSLR camera.
The telescope also includes a StarPointer finderscope, a 1.25" star diagonal, eyepieces, and an AC adapter.
Currently Unavailable
The following list of equipment is not available to members until we are able to replace or repair parts.
Note This item is being serviced and it is not available for check out.
This Ultrastar camera is being combined with a new telescope and mount to make a complete astrophotography loaner package. It will be available soon.
The camera and the required cables are included in this loaner. he user must supply a telescope, tracking mount and computer. The Ultrastar is an advanced version of Starlight Xpress 'Superstar' guide camera and it has a similar resolution of 1392 x 1040 pixels. However, the CCD chip has 70% more area and the QE is considerably greater, at around 75% peak. It is useful as both a guide camera and an imaging camera, which is especially well suited to 'Live Viewing' mode. A program called 'Lodestar Live' is capable of controlling the Ultrastar in Live view. It can also color convert and stack images from single-shots.
Telescope Types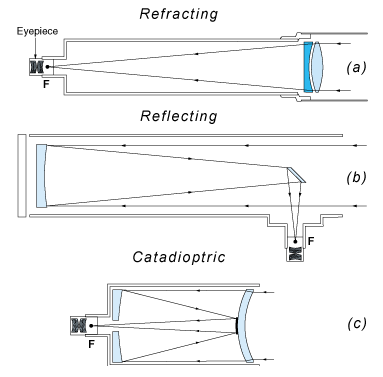 Copyright NIAAS, North Ireland Amatuer Astronomical Society
What are those numbers?

Copyright 2008-2012 Stormthecastle.com
The f-ratio is the focal length divided by the diameter of the telescope. Magnification is the focal length of the telescope divided by the focal length of the eyepiece.
Example
To find the f-ratio of a telescope 10 " in diameter with a 45" focal length:
Divide 45 " F.L. by10" D. to get an f-ratio of 4.5.
Compute Magnification
First, convert focal length to mm: 45" = 1146 mm, then:
1146 mm focal length divided by 35 mm eyepiece equals 33 magnification.
More Information
If you are interested in learning more about telescopes, we recommend: