Equipment Library
The Seattle Astronomical Society maintains a library of small and medium size telescopes that may be checked out for a period of 1 month by members in good standing. If you are new to astronomy, this is an excellent way to learn how to use a telescope and to begin viewing the wonders of the night sky, without having to invest immediately in a telescope of your own. To check out a telescope, please check out our equipment available for loan.
If you have any questions about borrowing equipment, or do not see a specific piece of equipment please reach out to our Equipment Manager.
Keywords
Equipment currently shown is filtered to only those tagged with Intermediate
Available Immediately
All our equipment is currently on loan to other members.
Available Soon
Available Eventually
The following list of equipment is currently loaned out to a member, and may include other members waiting to also borrow.
Due back in 41 days on May 29, 2019 (Wednesday).
ASI120S is a super speed and sensitive USB3.0 camera. Up to 60FPS under 1280X960 full resolution! With a peak QE of 75%, beyond ICX618 and with no FPN(Fixed pattern Noise)! Long time exposure supported up to 1000s! Full compatible with USB 2.0 USB Host!
Currently there are 1 requests to borrow this.
Celestron NexStar Evolution 6 is the first Schmidt-Cassegrain telescope with integrated WiFi. Without the hand control, slew to all the best celestial objects with a tap of your smartphone or tablet. Connect your device to NexStar Evolution's built-in wireless network, and explore the universe with the Celestron mobile app for iOS and Android.
Use the planetarium interface to view the night sky in real time or display a list of celestial objects currently visible based on your time and location. Our proprietary SkyAlign alignment procedure is built right into the Celestron mobile app, so you're ready to observe within minutes.
NexStar Evolution includes its own built-in battery. With this ultra-long life lithium-iron phosphate battery, you'll be able to enjoy stargazing marathons up to 10 hours on a single charge.
Setting up your NexStar Evolution is quick and painless with large, ergonomic handles. Manual clutches in both altitude and azimuth offer greater flexibility to manually point the telescope when powered off.
The 6-inch NexStar Evolution is an excellent way to get started in astroimaging. NexStar Evolution's tracking accuracy is so impressive, you can capture images of deep-sky objects like the Orion Nebula by simply attaching your DSLR camera.
The Schmidt-Cassegrain optical system offers bright, sharp views with StarBright XLT optical coatings—a great choice for visual observers and budding astroimagers alike.
NexStar Evolution is equipped with 4 auxiliary ports--2 on top of the fork and 2 on the bottom. A classic NexStar+ hand control is included, but is not necessary when using NexStar Evolution with the mobile app. The telescope also includes a StarPointer finderscope, two 1.25" Plossl eyepieces, a 1.25" star diagonal, and an AC adapter.
Currently there are 2 requests to borrow this.
Resolux binoculars are our new favorite astro binoculars (and equally superb for long-distance daytime viewing), combining high-resolution, flat-field optics with rugged mechanical construction and the strict JTII spec for collimation. They are fully waterproof, and nitrogen purged to prevent internal lens fogging. The BAK-4 prisms and advanced multi-coatings on all optical surfaces really drink in the light. The eyepieces focus individually, and with 18mm or more of eye relief on each model, even eyeglass wearers will see the full field of view. The Resolux's all-metal housing is armored with thick rubber to ensure a secure, comfortable grip. Each binocular comes with tethered lens caps, heavy-duty tripod adapter, and neck strap.
These rugged 10.5-power Orion Resolux astronomical binoculars provide high-resolution views with a nice flat-field. Fully waterproof and nitrogen purged construction prevents lens fogging in damp conditions. High-quality BAK-4 prisms and advanced multi-coatings on all optical surfaces provide maximum light throughput for bright views rich in contrast. Orion's 10.5x70 Resolux binoculars are still hand holdable for short viewing sessions, and have a nice 5.0-degree field of view.
Currently Unavailable
The following list of equipment is not available to members until we are able to replace or repair parts.
Note This item is being serviced and it is not available for check out.
127mm (5") aperture combined with a very long 1540mm focal length make the StarMax 127 a Maksutov-Cassegrain telescope with multiple proficiencies. Ideal telescope for sharply detailed views of planets such as Mars, Jupiter, and Saturn, as well as the Moon and brighter deep -sky gems. High-resolution imaging and visual performance in a telescope only 14.5" long!. Includes sturdy adjustable tripod and AstroView equatorial (EQ) mount for convenient slow-motion celestial tracking. Includes a 25mm Sirius Plossl 1.25" telescope eyepiece, 6x30 finder scope, 90-degree mirror diagonal, soft case for the optical tube and accessories, EQ mount polar -alignment scope, Starry Night software, and more!
Telescope Types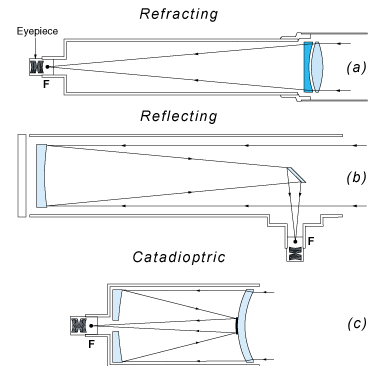 Copyright NIAAS, North Ireland Amatuer Astronomical Society
What are those numbers?

Copyright 2008-2012 Stormthecastle.com
The f-ratio is the focal length divided by the diameter of the telescope. Magnification is the focal length of the telescope divided by the focal length of the eyepiece.
Example
To find the f-ratio of a telescope 10 " in diameter with a 45" focal length:
Divide 45 " F.L. by10" D. to get an f-ratio of 4.5.
Compute Magnification
First, convert focal length to mm: 45" = 1146 mm, then:
1146 mm focal length divided by 35 mm eyepiece equals 33 magnification.
More Information
If you are interested in learning more about telescopes, we recommend: