Equipment Library
The Seattle Astronomical Society maintains a library of small and medium size telescopes that may be checked out for a period of 1 month by members in good standing. If you are new to astronomy, this is an excellent way to learn how to use a telescope and to begin viewing the wonders of the night sky, without having to invest immediately in a telescope of your own. To check out a telescope, please check out our equipment available for loan.
If you have any questions about borrowing equipment, or do not see a specific piece of equipment please reach out to our Equipment Manager.
Keywords
Equipment currently shown is filtered to only those tagged with Beginner
Available Immediately
All our equipment is currently on loan to other members.
Available Soon
Available Eventually
The following list of equipment is currently loaned out to a member, and may include other members waiting to also borrow.
Due back in 41 days on May 29, 2019 (Wednesday).
ASI120S is a super speed and sensitive USB3.0 camera. Up to 60FPS under 1280X960 full resolution! With a peak QE of 75%, beyond ICX618 and with no FPN(Fixed pattern Noise)! Long time exposure supported up to 1000s! Full compatible with USB 2.0 USB Host!
Currently Unavailable
The following list of equipment is not available to members until we are able to replace or repair parts.
Note This item is being serviced and it is not available for check out.
127mm (5") aperture combined with a very long 1540mm focal length make the StarMax 127 a Maksutov-Cassegrain telescope with multiple proficiencies. Ideal telescope for sharply detailed views of planets such as Mars, Jupiter, and Saturn, as well as the Moon and brighter deep -sky gems. High-resolution imaging and visual performance in a telescope only 14.5" long!. Includes sturdy adjustable tripod and AstroView equatorial (EQ) mount for convenient slow-motion celestial tracking. Includes a 25mm Sirius Plossl 1.25" telescope eyepiece, 6x30 finder scope, 90-degree mirror diagonal, soft case for the optical tube and accessories, EQ mount polar -alignment scope, Starry Night software, and more!
Telescope Types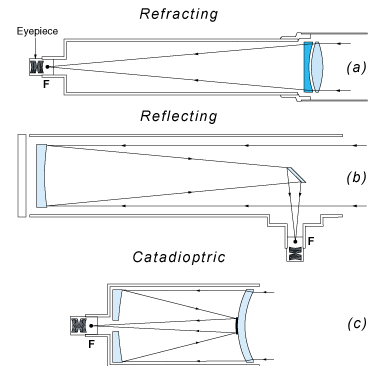 Copyright NIAAS, North Ireland Amatuer Astronomical Society
What are those numbers?

Copyright 2008-2012 Stormthecastle.com
The f-ratio is the focal length divided by the diameter of the telescope. Magnification is the focal length of the telescope divided by the focal length of the eyepiece.
Example
To find the f-ratio of a telescope 10 " in diameter with a 45" focal length:
Divide 45 " F.L. by10" D. to get an f-ratio of 4.5.
Compute Magnification
First, convert focal length to mm: 45" = 1146 mm, then:
1146 mm focal length divided by 35 mm eyepiece equals 33 magnification.
More Information
If you are interested in learning more about telescopes, we recommend: