Equipment Library
The Seattle Astronomical Society maintains a library of small and medium size telescopes that may be checked out for a period of 1 month by members in good standing. If you are new to astronomy, this is an excellent way to learn how to use a telescope and to begin viewing the wonders of the night sky, without having to invest immediately in a telescope of your own. To check out a telescope, please check out our equipment available for loan.
If you have any questions about borrowing equipment, or do not see a specific piece of equipment please reach out to our Equipment Manager.
Available Immediately
All our equipment is currently on loan to other members.
Available Soon
Available Eventually
The following list of equipment is currently loaned out to a member, and may include other members waiting to also borrow.
Currently there are 3 requests to borrow this.
NOTE: This Telescope package is bulky and heavy and may not fit easily into smaller cars.
The Meade 8 LX200 EMC Schmidt-Cassegrain telescope is suitable for members experienced with medium to large sized computerized telescope. This telescope will give good views of the moon, planets as well as nebulae, star clusters and galaxies. However, it is an older design that is more complex to operate than newer telescopes and is not a good telescope for beginners.
Currently there are 8 requests to borrow this.
The Celestron NexStar Evolution 6 includes integrated WiFi and can be controlled with your smartphone or tablet by connecting your device to NexStar Evolution's built-in wireless network. A SkyAlign alignment procedure is built into the Celestron mobile app for setup of the "GoTo" mode that provides automatic slewing to a selected object. Use the planetarium interface to display a list of celestial objects currently visible based on your time and location. NexStar Evolution includes its own built-in battery and will operate for up to 10 hours on a single charge. Ergonomic handles help with setup. Manual clutches in both altitude and azimuth offer flexibility to manually point the telescope when powered off. The 6-inch NexStar Evolution tracking accuracy is accurate enough to get started in astroimaging by attaching your DSLR camera.
The telescope also includes a StarPointer finderscope, a 1.25" star diagonal, eyepieces, and an AC adapter.
Currently Unavailable
All our equipment is in good condition!
Telescope Types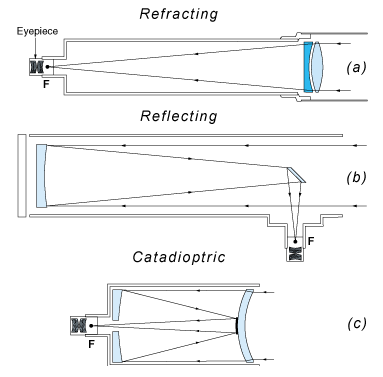 Copyright NIAAS, North Ireland Amatuer Astronomical Society
What are those numbers?

Copyright 2008-2012 Stormthecastle.com
The f-ratio is the focal length divided by the diameter of the telescope. Magnification is the focal length of the telescope divided by the focal length of the eyepiece.
Example
To find the f-ratio of a telescope 10 " in diameter with a 45" focal length:
Divide 45 " F.L. by10" D. to get an f-ratio of 4.5.
Compute Magnification
First, convert focal length to mm: 45" = 1146 mm, then:
1146 mm focal length divided by 35 mm eyepiece equals 33 magnification.
More Information
If you are interested in learning more about telescopes, we recommend: